India: Mumbai airport runway reopens after four days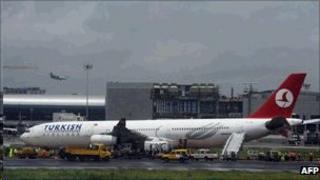 The main runway at the international airport in the Indian city of Mumbai has been reopened after four days.
The runway was cleared after engineers towed away a Turkish Airlines plane that skidded off the runway and got stuck in the mud on Friday.
The Airbus A340 flight from Istanbul was carrying 97 passengers and crew. No one was injured.
A number of incoming flights had to be cancelled and diverted over the weekend due to the closure of the runway.
A Mumbai airport spokesperson said the Turkish Airways plane was towed away early on Monday, and the runway cleared for operation at 0651 local time [0121GMT].
Over 200 workers and engineers worked over the weekend to extricate the plane from the mud.
Also last week, a Gulf Air plane, carrying 137 passengers and six crew, skidded off the runway as it came in to land at Kochi airport in the southern Indian state of Kerala.