Mamata Banerjee pulls out of Indian PM's Dhaka visit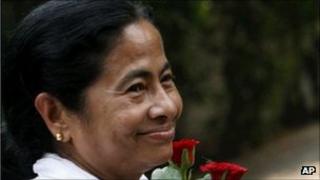 The chief minister of India's West Bengal state, Mamata Banerjee, has pulled out of Prime Minister Manmohan Singh's visit to Bangladesh.
Ms Banerjee did not give any reason for her decision.
But reports say she is upset over the Teesta river water treaty India is due to sign when Mr Singh visits Bangladesh for two days on Tuesday.
Ms Banerjee feels that India has agreed to supply too much water to Bangladesh, according to media reports.
Protests against the proposed treaty have already begun in some areas of north Bengal.
"I am not going," Ms Banerjee told Press Trust of India (PTI) on Sunday.
The prime minister will be accompanied by the chief ministers of four other states, including Assam, Tripura, Mizoram and Meghalaya which border Bangladesh.
This is the first visit to Bangladesh by an Indian prime minister in 12 years.
The South Asian neighbours are expected to sign agreements on sharing waters from common rivers, demarcation of land boundaries and transit facilities during the visit.