American diplomats in Pakistan under pressure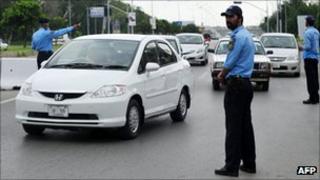 In recent months American diplomats in Pakistan have said that their movements around the country are being unfairly restricted. The BBC's Haroon Rashid casts light on the diplomatic repercussions of an uneasy relationship.
The US describes its treatment as "official harassment", but Pakistan says it is merely implementing a recognised and established procedure for all diplomatic staff.
Whatever the case, new measures to restrict diplomatic movement inside Pakistan have come at a time of strong anti-American sentiment in the country.
Anti-US feeling has been on the rise because of frequent drone strikes in Pakistan's tribal areas, the release and acquittal in March of a CIA contractor who killed two men in Lahore and the shooting dead of Osama Bin Laden by US forces on Pakistani soil in May.
But US officials say that a few recent incidents vividly illustrate how discrimination may also have an official outlet.
Enforcing the rules
Recently, in the north-western city of Peshawar, policemen deployed at a checkpoint stopped a vehicle after noticing four foreigners in it.
The occupants refused to wind their window mirrors down. Local television reporters - no doubt with the Lahore incident prominent in their minds - were rushed in as a stand-off developed.
A bearded white man in the driver's seat held up a hand-written message for the reporters.
"We don't need a NOC [no objection certificate] for visiting the 11th Corps," it says. "We're from the [Peshawar] consulate."
But Pakistan's Foreign Office appeared to take a different view. It says that all diplomats travelling outside the cities of their actual appointment need to have the correct documentation and inform them of their plans in advance.
US embassy spokesperson Siobhan Oat-Judge insisted that all officials and all employees of the American mission follow local laws.
"We're closely engaged with the Pakistani authorities to resolve the NOC issue," she said.
But it is clear that after a turbulent few months, the Pakistani authorities suddenly began to enforce restrictions which in less tense times had been allowed to remain dormant.
There have been some indications that the mood may be thawing. US media reports recently reported that the two governments had reached an agreement on the movement of diplomats. Pakistani Foreign Minister Hina Rabbani Khar said "operational details" were being worked out.
But these statements come in the context of continued stand-offs.
Several incidents in recent weeks over many parts of the country show just how difficult it can be for American diplomats in Pakistan as they travel from one city to another.
Two groups of US diplomats were sent back to Islamabad last month after they failed to prove that they had permission to enter Peshawar, the capital of militancy-hit Khyber Pakhtoonkhwa province.
The presence of weapons and sensitive telecommunications equipment in US embassy vehicles has further aroused Pakistani suspicions.
In an earlier incident in May, Matthew Barrett - a 27-year-old American married to a Pakistani woman - was detained by security officials for being close to a sensitive military area.
He was accused of being a CIA spy and was held in a jail before being released and told to leave the country - it is unclear whether he has done so yet.
The official curbs have hit the Americans the hardest. Some in Islamabad's diplomatic community suspect that travel pre-conditions have been set as a backlash against what they see as America's growing influence in the country.
'Too many Americans'
Another reason for the restrictions, officials say, is the growing number of Americans in Pakistan.
In the 2009 Kerry-Lugar Act, the US administration promised to provide $7.5bn (£4.6bn) in non-military aid over the next five years. This has led to a huge influx of Americans to work on different development projects.
On US demand, the Pakistani embassy in Washington was given special powers to issue visas to US officials without seeking Islamabad's approval.
In a sign of the obvious tension between Pakistan's politicians and its security establishment, intelligence officials complained that this was a decision taken without their input.
In addition a senior intelligence official told the BBC that they were finding it difficult - in terms of the deployment of resources - to keep track of foreigners when about 7,000 visas have been issued to Americans alone over the last year.
"It's getting beyond our capability," the official told me.
Pakistani officials maintain that the US government, and particularly USAID, needs to clarify its mission and be more transparent about what it is doing.
They say that as long as it is unclear what US objectives are - and how money is being spent to achieve those objectives - development projects and aid workers will continue to be viewed with suspicion throughout the country.
On a lighter note, the preoccupation with American activities in Pakistan has meant that Indians - traditionally the most watched nationals - are having an easier time of it.
An Indian posted in Islamabad recently joked that the intelligence agencies do not follow them nearly as rigorously as they used to.
It could be though that the current tensions are only temporary.
The recent arrest of al-Qaeda suspect Younis al-Mauritani in Quetta has been hailed by both Washington and Islamabad as evidence of the effective working relationship between their respective intelligence agencies.