Indian cabinet approves land reform measures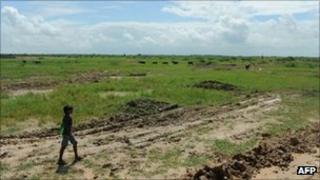 The Indian cabinet has approved a bill to reform land acquisition, with the aim of giving farmers a better deal.
They hope that land industrialisation projects will now be faster.
The proposed law will be presented to parliament on Wednesday, said a senior minister after a cabinet meeting chaired by the prime minister.
The Land Acquisition Relief and Rehabilitation Bill contains a proposal to pay farmers up to six times more than the market rate for land.
The difficulty of buying land for industrial and infrastructure projects is stifling India's economic growth, correspondents say.
Several multi-billion-dollar projects and countless smaller developments have been delayed for years because of protests by farmers and rural people against the sometimes compulsory purchase of their land.
The issue is hugely sensitive in a country that, despite being Asia's third-largest economy, is home to hundreds of millions of rural poor, correspondents say.
Many have protested against what they say is the the government's propensity to allow land to be acquired for industrial development at below-market rates.
The bill is important for the ruling Congress party, which hopes its passage through parliament will help to bolster support among farmers.
A key part of the proposed legislation is a stipulation requiring 80% of land owners to agree to their land being sold for industrial development.
Polls next year are being held in the populous and politically influential Uttar Pradesh state, where there have been several violent confrontations over the land acquisition issue.
The debate is also expected to figure prominently in national elections of 2014.
Recent demonstrations over land ownership halted the construction of South Korean Posco's $12bn (£7.4bn) steel mill in the eastern state of Orissa - one of the country's largest industrial projects.
Similar demonstrations against large scale projects have been held in the state of West Bengal.