Honda recalls India City sedans to replace faulty part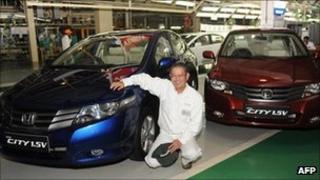 Japanese car major Honda has announced it will recall thousands of City sedans in India to replace a faulty component.
This is the second time in two years the firm has said it is recalling cars in India manufactured between 2005 and 2007 to replace a power window switch.
In January 2010, the company recalled 8,532 City cars to fix the same switch defect which can cause a fire.
The recall is part of Honda's announcement last year to recall 646,000 cars globally.
"Honda Siel Cars India (HSCI) Limited is carrying out the part replacement as part of a global exercise by Honda Motor Company to ensure stringent quality standards for its products," the company said in a statement on Monday.
It said the power window switch in 72,115 units of the City would be replaced free of cost and "owners would be contacted to carry out the exercise smoothly".
The company said no incident had been reported in India and that the recall was a preventive exercise.
Most of the global recalls have been of Jazz models, also known as Fit in some countries.
The Jazz and other Honda models in India are not affected by the recall, the company says.