Indian MP Amar Singh is arrested over 'cash for votes'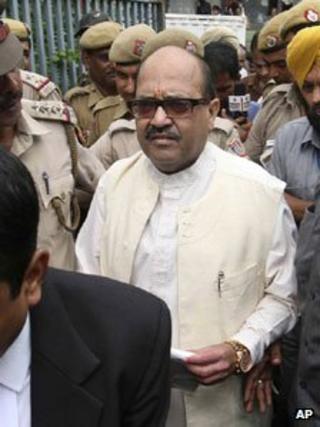 Indian MP Amar Singh has been arrested over allegations that he offered bribes to opposition MPs to abstain from a crucial confidence vote in 2008.
A Delhi court rejected his bail plea and remanded him in custody.
At the time of the vote, Mr Singh belonged to the Socialist Party, a Congress government ally. He denies the bribery charge.
Two former opposition MPs have also been arrested in connection with what is called the "cash-for-votes" scandal.
Faggan Singh Kulaste and Mahavir Bhagora were lawmakers with the main opposition Bharatiya Janata Party (BJP) at the time of the vote. They are accused of accepting the bribe money. Both men have denied the charge.
The alleged bribery scandal first surfaced in March when a leaked US diplomatic cable obtained by the Wikileaks website said that the governing Congress party had bribed MPs to vote in favour of a controversial nuclear deal with the US.
The cable alleged that the MPs were paid $2.5m (£1.5m) each to buy their support.
The government survived the vote. If the vote had been lost, India would have faced early elections.
'Borrowed kidneys'
Appealing to the court to grant him bail, Amar Singh said he was ill and very weak following a kidney transplant last year for which, he said, he required intensive round-the-clock medical care.
"I lost my kidneys and I am now living on borrowed kidneys," the Press Trust of India news agency quoted him telling the judge.
"There are hazards of being in public life and there is infection in my urinary track which is dangerous for my borrowed kidney," he said.
The court rejected his plea and remanded him in custody until 19 September.
Mr Singh is a member of the Rajya Sabha, the upper house of the Indian parliament.
In July 2008 two days of parliamentary debate on the nuclear accord ended in uproar with allegations of vote buying. India's media was awash with reports of alleged defections and desertions among MPs ahead of the vote.
BJP members waved wads of money in the air, alleging that they had been offered bribes to abstain.
The opposition claimed that a news channel had secretly recorded the alleged bribe taking. The channel handed over the tapes to parliament Speaker Somnath Chatterjee for investigation.
In July this year, Supreme Court criticised the Delhi police for carrying out a "shoddy probe" into the scandal.