Messi tickets 'too costly' for Bangladesh football fans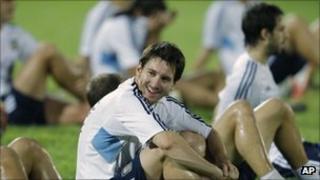 Bangladesh's Football Federation has defended its decision to charge at least $100 (£62) a ticket for a match between Argentina and Nigeria.
It says that it had to charge so much because the costs of staging the match - featuring World Player of the Year Lionel Messi - were so expensive.
The cheapest ticket for a similar match in India last week was $30 (£19).
Many have complained that the biggest football match in the country's history was beyond the budget of ordinary fans.
There were no price concessions ahead of the game for young people even though organisers said that the aim of the match was "to restore the glory of football throughout Bangladesh".
"It's a ridiculous price. They don't want real soccer fans to watch Messi's match," 25-year-old Rajib Ahmed told the AFP news agency outside the ground. "I earn just 8,000 taka ($108) per month. How can I afford a ticket?
"I saved some money and bought a ticket for Monday's practice session. But it costs 1,000 taka ($13), which is still too much. I just want to see Messi in action. He is the best player on earth."
The Bangladesh Football Federation (BFF) says that tickets for the first-ever international football friendly hosted by the country at the 55,000-capacity Bangabandhu National Stadium in Dhaka sold out late on Monday.
Palpable excitement
But it was a close-run thing, because on Sunday only half the tickets had been sold.
The BFF says that it has had to charge so much because of the expense of staging a game which features internationally renowned stars.
It says that the match was made accessible to less wealthy people because six large screens were erected around Dhaka for fans to see the game live.
People were able to watch it live on private television stations in addition to seeing a recording immediately after the match ended on state-run television.
The BFF argues that the authorities in Calcutta were able to charge so much less because the Indian stadium holds more than double the number of fans.
The BBC's Akbar Hossain - who was at the Dhaka game - says there was a palpable sense of excitement ahead of the kick-off with many fans wearing Argentina shirts bearing Messi's name.
But many die-hard fans had no choice but to watch the game on television, our correspondent says, which is why the atmosphere inside the stadium was a little more subdued than usual.
Our correspondent says that the high cost of the tickets meant the crowd was overwhelmingly middle class - with as many as 5,000 people there on some kind of corporate hospitality arrangement.
Argentina ran out 3-1 winners in the friendly, gaining revenge for a defeat by Nigeria in June.