Delhi blast: Five held over Delhi court blast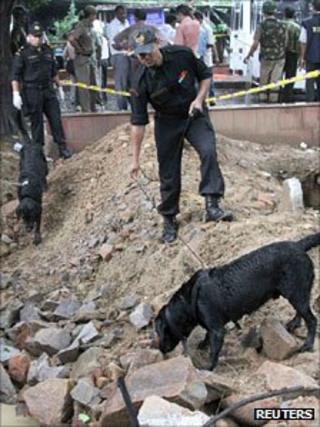 Police in Indian-administered Kashmir have detained five people, including a cyber cafe owner, in connection with Wednesday's bomb attack in Delhi.
An email reportedly sent by the radical group Harkat-ul Jihad al-Islami (Huji) claiming it planted the bomb has been traced to the cyber cafe.
Another email claiming responsibility, and purportedly sent by the Indian Mujahideen, is also being examined.
The death toll from the blast rose to 12 after a critically injured man died.
Seventy-six others were also wounded.
The US state department says Huji is a terrorist group with links to al-Qaeda. Huji has been accused of carrying out attacks in India, Pakistan and Bangladesh.
But the second email claimed Huji had not planted the bomb.
"We are examining the email received by the media houses... about its authenticity and veracity and [we are] taking it seriously," Indian home ministry official UK Bansal said of the second claim.
Police on Thursday said they had detained for questioning Mehmood Aziz, owner of a cyber cafe in the Kishtwar area of Indian-administered Kashmir from where the email apparently from Huji was generated on Wednesday afternoon.
They also detained Mr Aziz's brother, and an employee of the cyber cafe. Two others were held too - it is unclear if they are linked to the internet cafe.
'Too early'
Mr Aziz had not kept a record of customers visiting the cyber cafe, a police official told the BBC.
Mr Aziz told the police that a majority of his clients were college students and that a "student with a backpack" had come to the cyber cafe on Wednesday.
Earlier, Prime Minister Manmohan Singh said investigators had some leads on the attack.
But, Mr Singh said it was "too early to say" which group was behind the attack.
Mr Singh visited a hospital in Delhi, where the injured have been admitted, on Wednesday night.
"There are weaknesses in our security system and terrorists are taking advantage of them. We have to overcome these. It is a war we must and we will win," he said.
Meanwhile, a 20-member team of the federal National Investigation Agency has begun an investigation into the attack.
Forensic scientists have collected debris for analysis. Police have issued sketches of two suspects.
The bomb was apparently placed in a case near the first security checkpoint at the court, where people were queuing for passes, officials said.
There have been unconfirmed reports in the Indian media that the police are looking for a car which was reportedly spotted near the blast site shortly before the explosion.
The blast at the high court was the second to target the building in five months and came despite a high alert across the city.
Correspondents say it has renewed doubts about India's ability to protect even its most important institutions, despite a security overhaul that followed devastating attacks by gunmen in Mumbai (Bombay) in 2008.