Sonia Gandhi returns to India after surgery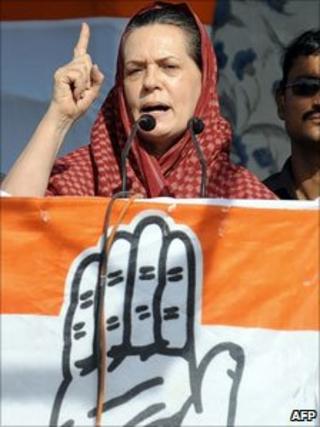 The leader of India's governing Congress party, Sonia Gandhi, has returned to Delhi a month after undergoing surgery abroad for an undisclosed medical condition.
Party spokesman Janardhan Dwivedi said Mrs Gandhi arrived home early on Thursday morning and "is doing fine".
The Italian-born Mrs Gandhi, 64, holds no official government post but is seen as India's most powerful politician.
Correspondents say her absence caused serious problems for the government.
Prime Minister Manmohan Singh's government was severely criticised for mishandling anti-corruption protests in August by social activist Anna Hazare.
Many commentators said that if Mrs Gandhi had been in Delhi, she would have dealt better with the situation.
'She is fine'
"She came back this [Thursday] morning and she is fine," Reuters news agency quoted Mr Dwivedi as saying.
"She will take advice from the doctors now."
Asked when she will be able to resume her public life, he said: "How can you talk about something like that now? It will depend on doctors. All I can say is that she is fine."
The party has consistently refused to comment on the nature of the illness or where she went for surgery.
But media reports have suggested she was treated at a specialist cancer hospital in New York.
The news that Mrs Gandhi was abroad came as a complete surprise when it was announced last month.
Mrs Gandhi is the widow of former prime minister Rajiv Gandhi. She nominated Manmohan Singh to the prime minister's post in 2004 but is frequently portrayed as being more powerful than him.
She is at the head of the Nehru-Gandhi dynasty, which has ruled India for most of the time since the country gained independence from British colonial rule in 1947.
Mrs Gandhi had named a four-member team to run party affairs during her absence. The team included her son and MP Rahul Gandhi, who is tipped as a future prime minister.