BJP leader Advani says he knew of 'cash for votes' plan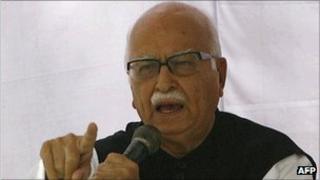 A senior Indian opposition leader has dared the government to arrest him over the "cash-for-votes" scandal.
LK Advani said that two of his party's former MPs, arrested over the scandal, were actually "whistleblowers".
They deny accepting bribes to abstain from a crucial confidence vote over a nuclear deal with the US in 2008.
Mr Advani said that they did a great service in showing "the [Congress-led] government was trying to buy votes" and claimed that he knew of the plan.
In a dramatic gesture in parliament, he held his wrists up as if had been handcuffed and said that he should be arrested too if the two men were considered guilty.
Faggan Singh Kulaste and Mahavir Bhagora, who belong to Mr Advani's Bharatiya Janata Party (BJP), were arrested on Tuesday.
Amar Singh - a member of the Rajya Sabha, the upper house of the Indian parliament - was also arrested. He is accused of offering bribes to the MPs.
At the time of the vote, Amar Singh belonged to the Socialist Party, then an ally of Congress. He also denies the charges against him.
'Service to democracy'
Mr Advani said the two former BJP MPs had done nothing wrong.
"If anything was wrong I would have stopped them," he said.
"They were whistleblowers who reported the matter in parliament. They presented the money. At that time I was the leader of the opposition in parliament and I know the facts.
"I believe that these two members have done a great service to democracy by bringing in parliament the money given to them."
BBC correspondents say there are still many unanswered questions over the scandal. It is not clear why Mr Advani did not announce the BJP "plan" before now.
In July 2008 two days of parliamentary debate on the nuclear accord ended in uproar with allegations of vote buying. India's media was awash with reports of alleged defections and desertions among MPs ahead of the vote.
The two BJP MPs, along with a couple of others, waved wads of money in the air in parliament at the time of the vote, alleging they had been offered bribes to abstain.
The government survived the vote. If the vote had been lost, India would have faced early elections.
The alleged bribe taking was secretly recorded by a news channel. The tapes were handed over to parliament Speaker Somnath Chatterjee for investigation.
The scandal resurfaced in March when a leaked US diplomatic cable obtained by the Wikileaks website said the Congress party had bribed MPs to vote in favour of the nuclear deal.
The cable alleged that the MPs had been paid $2.5m (£1.5m) each to buy their support.
In July, Supreme Court criticised the Delhi police for carrying out a "shoddy probe" into the scandal.