Indian sailors dead after ship blast in Nigeria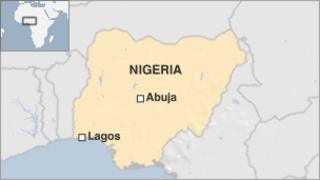 The bodies of three Indian crew members who went missing after an explosion on a cargo ship off Lagos in Nigeria have been recovered, Nigerian officials say.
The blast on the MT Jacksonville, carrying 15 Indian crew, occurred on Sunday.
Ten crew members were rescued immediately. The bodies of the dead were recovered on Thursday, and two others are still missing.
The ship's origin and destination were not immediately clear.
Lami Tumaka, spokeswoman for the Nigerian Maritime Administration and Safety Agency, said that the crew were undertaking repair work on the vessel when "there was a big explosion in the engine room" and a fire broke out.
The 10 crew members who were rescued on Sunday were treated for "different levels of burns" and released, she told the AFP news agency.
It is not clear what caused the explosion on the ship.