Indian inflation rises to yearly high of 9.78%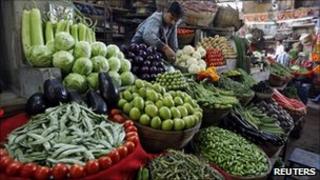 Inflation in India rose to 9.78% in August, its highest level in a year, officials say.
The increase was mainly due to the rising cost of food, fuel and manufactured goods across the country.
Inflation is a major headache for the Indian government and the central bank has raised interest rates 11 times in 18 months to try to keep a lid on it.
Despite this, a senior government adviser has said he thinks inflation will stay between 9-10% this year.
There are fears that that the Reserve Bank of India will continue to raise rates as inflation has remained high.
Correspondents say that the bank is now in the awkward position of fighting high prices amid mounting worries about the health of the global economy.
The government is projecting growth of 8.5% for the fiscal year that ends next March.
But the growth rate is threatened by the rising prices - which limit domestic consumers' spending power.
A further curb could come from lower export demand as developed countries struggle with low or no economic growth.