India hockey players reject 'paltry' trophy award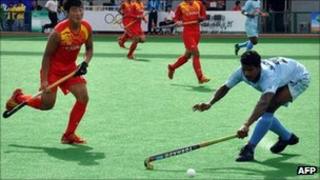 India's hockey team has rejected a cash award for its recent win in the Asian Champions Trophy.
The players said the 25,000 rupees ($525) they were each offered by Hockey India was too little and did not recognise their achievement.
They beat Pakistan 4-2 to lift the Asian Champions Trophy on Sunday.
Last week, India lost the right to host the world men's hockey championship in December because of wrangling over who runs hockey in the country.
Later on Wednedsay, India's Sports Minister Ajay Maken agreed that the amount paid to the players was "too meagre" and said they were entitled to far more money in recognition of their win.
He said that more generous cheques "would be prepared in a day or two" and handed over to the players.
The players refused the cash award at a "felicitation function" on Tuesday evening.
"We were offered 25,000 rupees each but we all refused to take it because it is a very small reward considering our achievement," senior player Gurbaz Singh told the Press Trust of India.
Singh said it would not be possible to attract youngsters with such paltry rewards.
"We did not expect such a small amount, considering the fact that hockey is our national game," he said.
"If such things continue, there will be a day when there will be very few kids interested in playing hockey. They would rather opt for cricket or any other individual sport."