Pakistan attack: Bomb 'kills 20' at Lower Dir funeral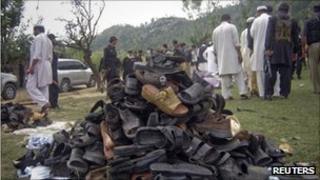 At least 20 people have been killed in a suicide bomb attack on the funeral of a tribal elder in north-west Pakistan, police say.
More than 45 others were wounded in the blast in Lower Dir near the Afghan border, the local police chief said.
He told the BBC some villagers at the funeral belonged to an anti-Taliban militia and may have been the target.
No group has said it carried out the bombing. The area has seen many militant attacks in the past.
Funerals of tribal leaders in the north-west have been targeted by militants before, and there have been many attacks on anti-Taliban tribal forces.
On Tuesday, gunmen ambushed a school bus near the north-western city of Peshawar, killing six. The militants claimed responsibility, saying the children were from a pro-government tribe.
'Pools of blood'
Samarbagh, the district where the latest attack took place, is an area where locals have raised tribal volunteer militias to defend themselves against Taliban attacks, the BBC's M Ilyas Khan in Islamabad says.
Lower Dir police chief Mohammad Saleem Marwat told the BBC that early reports indicated the Samarbagh incident was a suicide attack, possibly aimed at anti-Taliban militiamen.
"The funeral was that of an ordinary villager, but some participants of the funeral who belonged to a local tribal volunteer force opposed to the Taliban may have been the target," he said.
Reports from the village of Peerlo where the attack took place said at least 100 people were at the funeral. The attacker blew himself up as mourners were preparing for prayers.
"I could see pools of blood everywhere," one local man, Zahoor Khan, told the AFP news agency.
"People were collecting the remains of the dead in bed sheets."
Lower Dir borders the Swat valley from where the Pakistani army ousted Taliban militants in 2009.
Taliban chased out of Swat and Dir regions are reported to have set up bases in Afghanistan, just across the border from Dir.
These sanctuaries became possible when American forces deployed in Afghanistan vacated their bases in Kunar and Nuristan provinces a year ago, our correspondent says.