Nepal's hosts its first literary fair in Kathmandu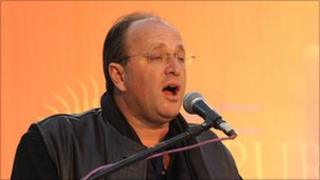 The Nepalese capital of Kathmandu is hosting its first ever literary festival with 60 Nepali and international writers taking part.
They are gathering in the ancient palace of Patan to talk about books and debate issues facing the country.
The Kathmandu Jatra is the newest of a growing number of literary festivals that have sprung up around South Asia in the past decade.
The festivals have become instrumental in giving a voice to writers.
They are renowned for boosting the careers of authors who previously have been little-known outside the region.
Ten years ago, British author William Dalrymple agreed to speak about his work at a cultural festival in the city of Jaipur in the Indian state of Rajasthan.
Massive surge
This marked the humble beginnings of the Jaipur Literary Festival which has since grown into South Asia's largest event for writers - this year attracting an audience of about 100,000 people.
In the past decade more than a dozen other literary festivals have sprung up around the sub-continent - their growth echoing a massive surge in book sales and work from new writers.
And though it used to be South Asian authors writing in English who dominated the literary scene - these festivals have become instrumental in promoting authors who write in local languages.
"Nepal is in a moment of great change," says Namita Gokhale, the advisor to the Kathmandu festival, "and it's a young democracy.
"It needs a forum for dialogue, for conversation, for hearing each other's stories... What's most important is that it gives equal space, equal respect to Nepali traditional writers and English writers so they get a vital chance to talk to each other, to hear each other."
William Dalrymple, who is speaking in Kathmandu, says bringing together authors who write in English and those who write in local languages is key to the success of the South Asian festivals - in particular in India.
"There are two very different worlds in publishing in India," he says, "one is the Indian writing in English which is the stuff readers in Britain and America would normally associate with India.
"Then there is in the opposite corner to them - a whole world of far less well-known writers who write in Hindi, and in regional languages - but whose writers are not at all known outside their languages.
"These writers often feel that the more famous writers in English are in a sense milking an Indian childhood without engaging in their subject."
This weekend's event in Kathmandu plans to bridge the divide between these two worlds. On the programme are sessions in both English and Nepali.
Organisers hope the event will mark the beginning in a new era in Nepali literature - one which blends together local story-telling with the already flourishing tradition of South Asians writing in English.