New York film school eyes Indian market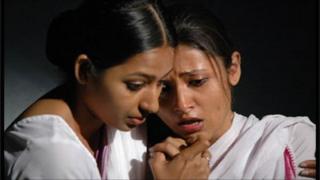 The Indian films of the future may well exhibit a distinctive New York style.
News that the New York Film Academy, which boasts Spielberg and other Hollywood luminaries among its lecturers, will set up shop in India has been welcomed as a sign of the country's flourishing film market.
The film and acting school already hosts workshops in Mumbai, the home of Bollywood, but with this move the school has invested a substantial stake in the Indian film market.
"We hope to create a new generation of film-makers," Kitty Koo of the New York Film Academy (NYFA) told the BBC.
And the Indian film fraternity thinks some healthy competition is long overdue. Internationally acclaimed actor Om Puri told the BBC that such competition would boost India's film market.
"There are many institutes in India teaching the art of acting and film-making but, to be honest, they are not performing well enough," he said.
"If institutions like the New York Film Academy come to India to train prospective students in this field, this will be really beneficial for the industry as the different perspectives Hollywood people have are much needed in India."
This is indeed part of the thinking of the academy: "The students want to explore and learn new things and techniques, learn how Americans make movies and come back and share," Ms Koo said.
Hollywood clout
Their proposed Indian branch will have its campus in Greater Noida, on the outskirts of Delhi.
But the arrival of a New York competitor on Indian soil has not daunted the local institutes. The director of the Film and Television Institute of India (FTII) echoed Puri's sentiment that more competition will only work for the best.
Where the New York Film Academy only began life in New York's bohemian Tribeca district in 1992, FTII has has a long and illustrious history producing alumni such as directors Subhash Ghai and Sanjay Leela Bhansali.
"We never shy away from such competition. We will continue with our good work as the institution has been doing for last 50 years. India is a free country where anyone is welcomed to start such an academy," FTII's director DJ Narain said.
It is a prestigious institution and the director believes that competition from NYFA will not deter prospective students from coming to Pune, where the FTII is based, so close to Mumbai, the beating heart of Bollywood.
He added that the FTII was re-positioning itself as an international training ground saying that "many students come from many countries to learn about the art of film making."
But the NYFA will bring all the clout and big names of Hollywood to benefit its Indian students.
Apart from New York City, the academy also has campuses in Universal Studios in Brisbane and Abu Dhabi and these campuses have hosted guest lecturers such as Steven Spielberg and actor Kevin Spacey.
Ms Koo is hopeful that such stars would also be able to visit India's branch, depending, of course, on their availability.
International staff
Guest lecturers are not salaried and the academy says that the same principle would apply to Indian stars and film experts who wished to similarly lecture in the Indian branch.
"We follow a philosophy which is giving back and sharing with students. In Hollywood there has been a tradition where celebrities enjoy teaching, they want to share what they have with the future industry people," Ms Koo said.
She adds that the academy will not have any Indian faculty.
"The faculty will be from the US because there are lots of schools that teach film-making with Indian instructors. We would teach in a different way. Our instructors come from different backgrounds. If anyone wants to learn it the Indian way, then there are lots of choices."
For his part Om Puri, who has acted in Bollywood, Indian art house cinema as well as in British films and television serials, has said that he would be happy be a guest lecturer at the New York Film Academy to help mould those aspiring to reach the top of India's film industry.