India raises interest rate to fight inflation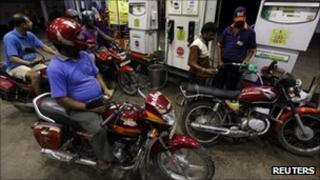 India's central bank has raised interest rates for the 12th time in 18 months to try to curb inflation.
The Reserve Bank of India raised the policy lending rate, called the repo rate, by 25 basis points to 8.25%.
India has been struggling to contain inflation which is at a 13-month high of 9.78%.
On Thursday, state-run oil firms raised petrol prices by 5% to help curb losses from high crude prices. Analysts warned that it would worsen inflation.
"The Indian government is concerned about high inflation and slowing growth," Reuters quoted Finance Secretary RS Gujral as saying.
There are fears that the Reserve Bank of India will continue to raise rates as inflation has remained high.
The bank is now in the awkward position of fighting high prices amid mounting worries about the health of the global economy, correspondents say.
The government is projecting growth of 8.5% for the fiscal year that ends next March.
But the growth rate is threatened by the rising prices - which limit domestic consumers' spending power.
Analysts say the latest hike in petrol prices will add to the "inflationary pressure".
Nearly a dozen hikes in petrol prices over the past two years have raised the price of the fuel by more than 50%.
In May, oil firms raised petrol prices by 5 rupees ($0.10; £0.06) a litre - the steepest ever single increase.
Last year, the government allowed state-run firms to fix petrol prices but it continues to control the prices of diesel, kerosene and cooking gas to protect the poor and try to keep a check on inflation.
"Petrol prices are being raised by 3.14 rupees ($0.06; £0.04) a litre to 66.84 rupees ($1.40; £0.89) in Delhi and by similar amounts in the rest of the country," the Indian Oil Corporation said in a statement.
The repeated fuel price hikes have made the government hugely unpopular with India's massive middle class.
The opposition parties have condemned the move.