Ombudsman in Indian state of Karnataka resigns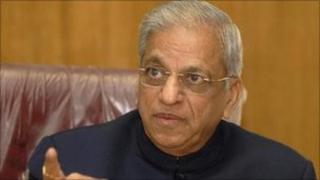 A senior judge and ombudsman in the southern Indian state of Karnataka has resigned following allegations that he has breached land ownership laws.
Former Supreme Court judge Shivaraj Patil has been accused of wrongfully owning two housing plots.
Mr Patil denies the charges but he came under pressure over the weekend when he was criticised by prominent anti-corruption campaigner, Anna Hazare.
Last month Mr Hazare fasted for 12 days for better anti-graft legislation.
The 71-year-old's resignation comes barely a month after he was appointed by the governing BJP in Karnataka to be the state's ombudsman.
He replaced popular anti-corruption crusader Justice Santosh Hegde, whose report on illegal mining led to the recent resignation of Karnataka Chief Minister BS Yeddyurappa.
The allegations first appeared in a Bangalore tabloid. Justice Patil allegedly purchased two sites in Bangalore in violation of local co-operative society land ownership laws which state that no person can purchase or own more than one site.
He says one of the sites is owned by his wife, but opposition parties continued to demand his resignation.