Bangladesh police clash with Islamist party supporters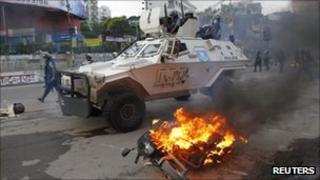 Police in Bangladesh have fired rubber bullets and tear gas to disperse supporters of an Islamist party.
Members of the Jamaat-e-Islami party were protesting against the arrest of their leaders on war crimes charges.
The crimes were allegedly committed during the country's liberation war from Pakistan in 1971. All five leaders deny the accusations.
Officials said at least 50 people, including dozens of police officers, were injured in the clashes.
It was the first major clash between protesters and security forces since the Awami League-led coalition came to power in January 2009.
The protest was part of a country-wide agitation by Jamaat-e-Islami - the country's largest Islamist party - against the continued detention of their five senior leaders on war crimes charges.
"The protesters suddenly turned violent. They started throwing stones at our officers. Around 46 police officers were injured and many vehicles were set on fire," police spokesman Habibur Rahman told the BBC.
He said that about 120 Jamaat-e-Islami activists, including three senior leaders, had been arrested in connection with the violence in the capital Dhaka.
But a leader of the Jamaat-e-Islami denied the police version of events.
"We were protesting in a peaceful way but the police suddenly started taking tough action," Dr Shafiqur Rahman, a senior leader of the Jamaat-e-Islami, told the BBC.
"We never believe in this type of violence. It was a clear suppression of our right to protest."
Violence was reported in other protests by supporters of Jamaat-e-Islami in the southern port city of Chittagong and in other areas of Bangladesh.
East Pakistan became Bangladesh 40 years ago, after a bloody battle for independence.
Official figures estimate that more than three million people were killed and thousands of women raped when West Pakistan sent in its army to stop the independence movement.
Last year, the Bangladeshi government set up an International Crimes Tribunal in Dhaka - to try those Bangladeshis accused of collaborating with Pakistani forces and committing atrocities.
So far, seven people, including two from the main opposition Bangladesh Nationalist Party (BNP) and five from Jamaat-e-Islami party have been arrested. One of the BNP leaders has been given bail.
The two opposition parties accuse the government of carrying out a vendetta. They have also denounced the tribunal as a political show trial.