Mike Tyson approached for Indian Big Brother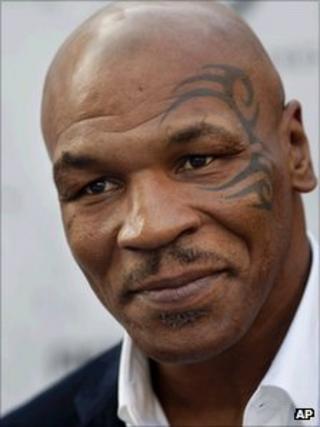 Former world heavyweight boxing champion Mike Tyson has been approached to join the Indian version of Big Brother, the BBC has learnt.
The programme, known as Bigg Boss, starts in October. This will be the fifth season of the reality show.
Bollywood stars Salman Khan and Sanjay Dutt will host the show.
Last season, former Baywatch star Pamela Anderson made a special appearance in the Bigg Boss house and proved a ratings booster for the show.
The late reality TV star Jade Goody appeared in Bigg Boss in 2008.
Goody died in March 2009 after a high-profile battle with cervical cancer; she learned she had the condition while on the show.
A spokesman for the Colors channel which airs the show in India told the BBC that it never comments on who the housemates will be and that they are revealed only at the start of the show.
But media reports say the deal between Tyson and the channel has been signed.
Troubled
There were rumours that that the boxer would feature in the celebrity-line up during this season's Big Brother in UK, which has moved to its new home on Channel 5.
Tyson is no newcomer to India - in 2007, he made his Bollywood debut, starring in a music video for a Hindi film called Fool-n-Final, a comedy centred on a bunch of criminals.
Tyson, 45, who became the youngest world heavyweight champion at the age of 20, has led a troubled life.
He served three years in prison for a 1992 rape conviction and spent 24 hours in an Arizona jail in 2007 after pleading guilty to cocaine possession and driving under the influence.
In 1997, he was disqualified from a heavyweight title fight when he bit off part of his opponent Evander Holyfield's right ear.
In 2009, his four-year-old daughter died after becoming entangled in a cord from an exercise treadmill.