Workers at Sikkim power unit killed by quake landslides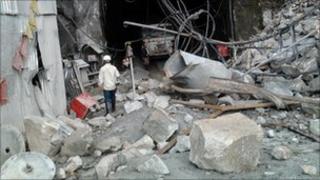 Indian soldiers have reached a hydroelectric plant in the state of Sikkim where at least 17 people were killed in a series of landslides which followed Sunday's powerful earthquake.
The troops had been hampered by heavy rain and further mudslides.
A spokesman at the plant said the victims were hit by falling boulders.
The earthquake death toll in India, Nepal and Tibet is nearing 100 and officials have warned that it could continue to rise.
Helicopters in Sikkim are continuing to airlift the injured and stranded.
Still inaccessible
The spokesman for Teesta Urja Limited, which runs the power plant, told the BBC that as well as those killed one worker was missing and 10 others were injured. About 1,000 people work at the plant.
He said that the victims were returning to the plant after their shift when they were hit by rocks falling from mountain roads which surround the plant.
"We are trying to ascertain the number of people who are missing, but it is difficult because some local workers have returned home after the quake," Teesta Urja executive PP Baby told the AP news agency.
Officials say that soldiers in helicopters are on their way to the area while other rescue workers are using heavy machinery to try to clear the mud and stones blocking the road to the plant.
The plant is being built along the Teesta, a glacier fed river in the Himalayas in the northern part of Sikkim.
Mr Baby said the quake did not damage the plant, part of which is almost complete.
"The dam and the power plant structures are completely safe," he said.
Troops in Sikkim have begun airlifting rescuers and dropping food and supplies to cut-off areas.
Officials say it is difficult to be entirely accurate about the number of casualties because some areas are still inaccessible.
In Gangtok - the state capital - thousands of people fearful of aftershocks sheltered in the grounds of a university and at a sports stadium.
Correspondents say that by late Tuesday, a few villagers with badly injured relatives had begun to arrive at the city's main hospital from more remote areas.
One man, Thurba Singh Sherpa, told AP that he had walked for nine hours carrying his six-year-old son, who was injured when a large boulder fell on the jeep he was travelling in.
He said that two other children died instantly and two others who were critically injured were airlifted by helicopters.