Pakistani army major general injured in militant attack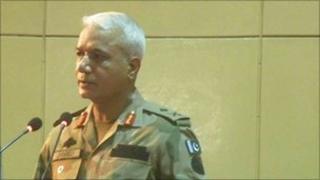 The commander of the Pakistani army in the restive north-western Swat region, Maj Gen Javed Iqbal, has been injured when his helicopter came under fire.
The attack has been blamed by the army on Taliban militants.
It says that the commander's helicopter was attacked in the hilly region of Barawal in Upper Dir district at about midday (07:00 GMT) on Tuesday.
Maj Gen Iqbal was hit in the leg and flown to Islamabad for medical care. The helicopter was undamaged.
It was able to land safely in nearby Dir.
Police in Dir said that the incident was followed by an exchange of gunfire between the security forces and suspected militants in the area. No casualties were reported.
The hills where the helicopter was attacked are on the border of Pakistan and Afghanistan.
The BBC's M Ilyas Khan in Islamabad says that militants based in the neighbouring Afghan region have on several occasions crossed into Pakistani territory in the area to attack Pakistani forces.
Last week a suicide bomber targeted a village funeral in the Samarbagh area of Upper Dir, killing at least 40 people.
No militant group has claimed responsibility for the attack on the commander so far.