Taliban chief linked to Chinook crash killed, says Nato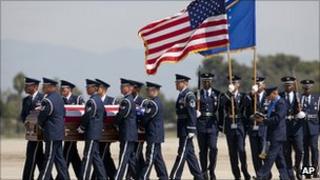 Nato says it has killed the Taliban commander targeted in an operation last month in which 38 US and Afghan troops died in a helicopter crash.
Qari Tahir was killed in an air strike in Wardak province, central Afghanistan, a statement said.
Thirty US soldiers, mostly special forces, were among those who died when the Chinook was shot down in Wardak.
It was the biggest single loss of life for international forces since the US-led invasion 10 years ago.
"A precision air strike killed Taliban leader Qari Tahir after the security force located Tahir and an associate in a dry riverbed in Sayd Abad district," the Nato-led International Security Assistance Force (Isaf) said in a statement.
"Tahir was the Taliban's top leader in Tangi Valley and was the target of a previous combined operation on 5 August that resulted in the loss of the CH-47 Chinook."
The statement added: "He led a group of insurgent fighters throughout the valley and was known to use roadside bombs and rockets to intimidate the local populace."
Days after the helicopter crash, US commander in Afghanistan Gen John Allen said the militants who had shot it down had been hunted down and killed in a Nato air strike.
However, a senior Afghan official told the AFP news agency that it had been Qari Tahir who had lured US forces to the scene.
Those who died in the helicopter crash also included Afghan commandos, an Afghan civilian interpreter, US Air Force personnel, a dog handler and the Chinook crew.