Bangladesh oppostion calls strike over fuel price rises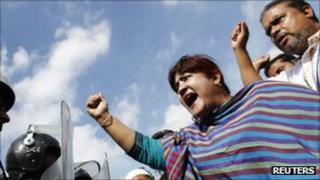 Thousands of police are on the streets of the Bangladeshi capital Dhaka to ensure calm during a dawn-to-dusk strike called by the opposition.
Schools and shops across the country have closed down. The general strike was called to protest against a rise in fuel prices earlier this week.
The government raised all fuel prices by up to 19% from Monday.
The Bangladesh Nationalist Party (BNP) says the increase comes "at a time when people's suffering has... peaked".
But Prime Minister Sheikh Hasina's governing Awami League party has called the strike "issueless" and says it is aimed at derailing government reforms and forcing fresh elections.
"Such sinister moves will be thwarted by law enforcing agencies and the patriotic people," Home Minister Sahara Khatun said.
General strikes - or hartals - are a common opposition tactic regularly used by both by the BNP and Awami League when in opposition.
The decision to increase all refined petroleum fuel and compressed natural gas prices was the second such rise since May and provoked an angry reaction from transport owners and the BNP.
Opposition leaders say more than 400 of their supporters have been taken into custody in the past two days.
"The government has increased fuel prices at a time when people's suffering has already peaked due to inflation running high," the BNP's acting secretary-general, Mirza Fakhrul Islam Alamgir, told Reuters news agency.
The government says that the fuel price rise was part of a plan to reduce state subsidies.
Although most businesses were shut throughout the capital, some offices remained open but with minimal staff levels. Trading at the Dhaka Stock Exchange continued normally.
"So far, today's strike has been peaceful under tight watch by security forces," a senior police officer said.