Pakistan anti-Taliban militia members killed by bomb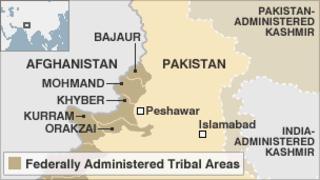 A roadside bomb targeting anti-Taliban militia travelling in a pick-up vehicle in north-west Pakistan has killed at least five people, local officials say.
The blast badly damaged the vehicle in a remote village close to the Afghan border in the district of Bajaur.
The area has frequently been the centre of heavy fighting between Pakistani troops and Taliban militants.
The US has described the area as the most dangerous region on earth.
It says the region is used by Islamist militant groups plotting attacks on American troops fighting in Afghanistan and on targets in the West.
In many areas, tribesmen have set up anti-Taliban militias, sponsored by the government, in a bid to drive militants out of their communities.
Militant stronghold
"It was a planted IED (improvised-explosive device) which exploded when the vehicle passed. Five people have been killed and eight others were wounded," Adalat Khan, a government official in Chamarkand village, told the AFP news agency.
"Three of those who died are members of an anti-Taliban militia and one is a 10-year-old boy. The fifth one is the driver."
Officials say that another vehicle was damaged in the attack and that several people were wounded.
Local government administrator Adalat Khan told the Associated Press news agency that the incident occurred in the Chamarkand area of Bajaur.
Correspondents say that violence has persisted in Bajaur since last year, when the military claimed that it had defeated Taliban and al-Qaeda militants after more than a year of fighting.