Pakistan dengue outbreak strains Lahore hospitals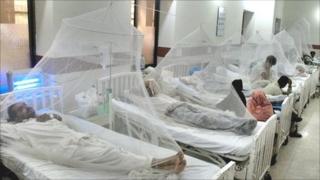 Feverish people cram the hallway of the outpatient department of Jinnah Hospital, one of the largest hospitals in the Pakistani city of Lahore.
Most of them have had some sort of illness over the last few days and are afraid that they might have contracted dengue.
The illness - transmitted through infected mosquitoes - begins with a high fever and rheumatic pains before a sharp decrease in blood platelets, vomiting and bleeding. If it is not diagnosed in time, it can be fatal.
"I have been waiting here for three hours for a medical check, and I don't know how much longer it will take," says Mohammad Aamer, a yellow-eyed man running a high fever who is waiting in the lobby of Lahore's Mayo hospital.
The medical staff here are visibly harassed but similar scenes can be seen in all of the city's main hospitals.
Lahore is in the throes of a dengue outbreak, and it is struggling to cope.
Early outbreak
With a population of nearly 10 million, it is the second largest city in Pakistan and the capital of the country's most populous province, Punjab.
"We can't run tests on all the people in one go," says one strained medic.
"They have to wait for their turn, but most of them are getting desperate, which makes our work that much harder."
There have been heavy rains in the region for the second year running, leading to water accumulation in open spaces and increased atmospheric moisture, conditions much favoured by breeding mosquitoes.
While several cases of dengue fever were reported last year, the late monsoon rains of 2011 have reduced temperatures a little earlier in the season, resulting in earlier-than-usual mosquito breeding patterns.
As a result, experts say the outbreak has hit the city at least a month in advance, taking the health authorities by surprise. And its spread is much wider than in previous years.
According to the Punjab health department, more than 8,000 cases of dengue fever have been reported in the province so far - 7,000 in Lahore alone - and the count continues to rise.
Doctors say more than 30 people have died of the fever so far. The media reports deaths on a daily basis.
Health officials estimate that more than 7,000 people are being tested daily for the virus - 300 to 400 test positive each day.
As the numbers mount, the government has responded by introducing urgent measures.
Car wash services and swimming pools have been ordered to close until further notice in order to reduce water accumulation.
Schools and colleges in Lahore have been closed, and morning parades in schools elsewhere in Punjab have been banned to prevent children being unnecessarily exposed.
The Pakistan Cricket Board has shifted the domestic T-20 cricket tournament, due to begin on 25 September, from Lahore to Karachi.
All this has caused a certain amount of panic in the city.
Bed shortage
Officials say the logistical problems are made worse by the tendency of those who develop an illness to fear that they may have dengue fever, piling pressure on the medical system. Many also flock to the expensive private hospitals and clinics in the city.
"We have set up five counters to test patients for the dengue virus," says Dr Mohammad Ahsan of Jinnah Hospital.
"Every counter is manned by three doctors. Between them, they handle 250 to 300 patients each day. You can say that overall, we are handling anywhere between 1,300 to 1,500 patients a day. Everybody is overworked here."
But not all patients are admitted to hospitals because of a shortage of beds.
"We still can't house all those who test positive," Dr Ahsan said.
Doctors say they are trying to tackle this problem by screening patients to assess the severity of the disease. Those with the lowest platelet counts get priority.
Meanwhile, homes and open spaces are being fumigated. Masked workers try to quell mosquito build-up.
The province's chief minister Shahbaz Sharif was recently seen distributing dengue awareness material to people on a city street.
Government-sponsored medical camps have opened up on several main streets to offer pamphlets about the dengue virus and to carry out tests to ease pressure on hospitals.
And it's become political too - the provincial government led by the PML-N party - is being urged to handle the outbreak better than the way its rival the PPP, which controls central government, is handling floods in its home province of Sindh.
But this is problem that will not disappear overnight. Experts say the mosquitoes are going to be around until December.