The story of Western classical music in India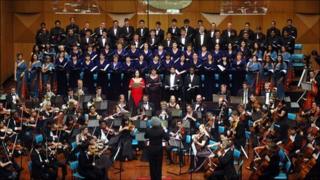 Despite a rich musical heritage, India did not have its own professional symphony orchestra until five years ago when the Symphony Orchestra of India (SOI) was set up to broaden the appeal of Western classical music in the country.
Be it Bollywood music blaring from a Mumbai (Bombay) taxi, or the sultry sounds of the shehnai at a wedding, or the vibrato-laden vocals of a south Indian Carnatic singer - India has been a melting pot of music genres for centuries.
"It's shocking that we never had an orchestra like this before," says Khushroo Suntook, who founded the SOI in 2006.
Why such an orchestra had never been established before is down to a number of reasons.
Mr Suntook says a lack of venues for training and rehearsal and a "huge lack of emotion" from many Indians when it comes to listening to this kind of music are the main reasons.
"When audiences watch a live performance though, their attitudes change," Mr Suntook says, hopeful that his creation is helping to increase appreciation of this kind of music across India.
The SOI was born out of a chance encounter between Mr Suntook and Kazakh violinist Marat Bisengeliv.
After watching one of Mr Bisengeliv's performances in London, Mr Suntook invited him to India.
Few Indian musicians
The pair decided to set up the SOI and house it at the National Centre for the Performing Arts (NCPA) - a multi-theatre venue in Mumbai also chaired by Mr Suntook.
"We brought in Russian and Kazakh musicians and that was the nucleus of the orchestra," says Mr Suntook.
Five years on, the orchestra boasts a diverse collection of players - out of around 100 players, only 16 are Indian.
The SOI has started training Indian musicians and teaching Western classical music appreciation in schools, but there is a long way to go.
"I couldn't understand why there is no Western music following in India, especially when you compare it with China which has some 200 symphony orchestras," says Marat Bisengeliv.
"Here, the British colony didn't present any opportunity for music, but if you give a parallel with Kazakhstan and Russian it's completely the opposite," he adds.
Mr Bisengeliv says Indian audiences of Western classical music have their preferences, with Beethoven and Mozart being favoured.
On the flip side, composers such as Elgar, JS Bach and Hayden are not as popular with audiences, he says.
The SOI is planning to open a music academy which it hopes will encourage people to learn to play an instrument from an early age.
When SOI cellist Leanne Pereira was growing up, she had to take lessons from a private tutor to fulfil her ambition of being a full-time musician.
Ms Pereira quit her bank job after she was offered a full-time position playing with the orchestra.
Her colleagues, unaware of what exactly Western classical music was, were surprised when she decided to quit.
"'What, you want to be Shakira or Michael Jackson,' they asked? They just assume it's like pop and mix it all together," she says.
Ms Pereira says it is not just her colleagues, but the majority of her contemporaries who are unaware of what Western classical music has to offer.
"The SOI is a start though," she says. "It's not that people are resistant to this music, they just don't know about it."
With tickets to concerts not being cheap, the audience at many of the SOI's concerts is from the wealthier end of the spectrum, but Mr Suntook says this too is slowly changing.
"We have cheaper seats for students and the seats at the back are priced lower, but the top seats are expensive and there's no doubt about that.
"But the audience is changing and we are finding a lot of new people coming in. It is expanding."
And with a slow, yet growing appreciation of Western classical music across India, there might even come a day when the SOI is no longer India's only symphony orchestra.