Landslides block Sikkim quake relief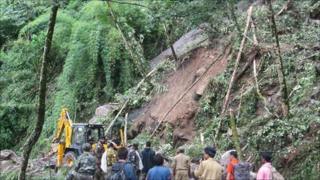 Dogru Singh, a middle-aged explosives expert with the Indian army, has been much in demand in the northern Indian state of Sikkim over the last week.
After a quake last Sunday, which killed at least 100 people in the state, Sikkim has been hit by a spate of landslides and this has been exacerbated by relentless monsoon rain.
And this is where Mr Singh becomes important because his aptitude with explosives - from his work with the the Corps of Engineers and the Border Roads Organization (BRO) - is every bit as sharp as his finely-chiselled moustache.
There has been no shortage of work for him here in Sikkim.
As he watches a Caterpillar fail to remove boulders blocking a road, he nonchalantly hops on top of the nearest large rock with a coil of green wire in his hand.
He ties the wire around white explosive sticks, covers it with mud and within half-an-hour triggers three huge explosions.
As the boulders start rolling down the mountain, local boys run away, fearing more landslides. Mr Singh is phlegmatic and tells everyone to keep calm as he turns on the engine of his pick-up truck.
"I have been doing this for decades, but this is difficult because incessant rain is making large amounts of mud and boulders come loose," he said.
'Collapsed mountains'
The landslips are getting in the way of the army, civil administration and aid agencies who are working round the clock to rescue stranded villagers and provide relief.
On my way to the town of Tung from Mangan, the epicentre of the quake, I witnessed several landslides myself.
In many cases it appeared as if the mountain itself had slithered onto the road carrying giant boulders, and in some cases, the remnants of flimsy wooden houses amid the trees and mud.
One local resident, Gopal Acharya, reflects the views of many when he alleges that the landslides may as well have been "caused by the government".
"They approved multiple hydropower projects on the main river Teesta in Sikkim," he said.
"The power companies have dug huge tunnels inside the mountains to make water flow at a high speed to generate electricity."
Mr Acharya believes these tunnels had "weakened" the mountain.
"Mountains were blasted using explosives to generate electricity and these serial blasts cracked the mountains," he asserts.
And there are those who argue that Indian fears over Chinese incursions into Sikkim - Beijing only recognised the state to be part of India in 2003 - led to the construction of several roads for military vehicles which have further weakened the mountains.
"Very sharp cuts are made in the mountains to widen the existing roads and that may have resulted in landslides," said an employee of the state government's mines and geology department.
However retired Sikkim Power Secretary Pema Wangchen Bhutia believes such theories are without foundation.
"These are low intensity blasts inside the mountains - there is no question of such blasts triggering cracks that shake the boulders loose," he said.
Sikkim's ex-director of mines and geology, T Tashi, has also conducted a survey of one hydropower site on the river Teesta and concluded that "the possibility of blast-driven landslides" cannot be ruled out.
There are dozens of big and small hydropower projects in Sikkim and several people's movements have been set up to resist such activity.
Local activists feel that the latest earthquake will lead to the formation of even more campaigns, making it difficult for the state government to approve more power projects and big dams.
Perilous journey
Chaitan Thukdar is a 25-year-old worker on just one such project, who is now nursing a broken toe in a relief camp after crawling, creeping and climbing through devastated terrain after the earthquake.
There are several thousand men like Mr Thukdar who work as temporary workers in Sikkim's thriving energy and road building industry.
Many of them had to walk for at least four days from upper Sikkim to reach the safety of the camps.
"The locals feel that the roads we constructed caused the landslides and they have asked us to leave," said Mr Thukdar.
Walking from the remote area of Damang, close to the Indo-China border, he and his co-workers were confronted with a roadless country with little food or medical facilities.
They had to move boulders on roads, walk up and down mountain slopes and leave their more aged colleagues behind in order to reach the first accessible relief camp.
Mr Thukdar's fellow workers said that they relied heavily on the Indian army, who provided them with ropes to cross narrow ridges.
Road workers say that the entire area above Tung, stretching up to the Tibetan plateau, will take months to repair.
The Sikkim earthquake of 2011 is not something that will be quickly forgotten.