Afghanistan: 11 children killed in Herat bus blast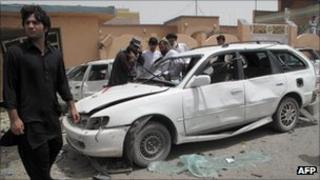 At least 16 people, including 11 children, have been killed when a bus hit a roadside bomb in western Afghanistan, local officials say.
They say that the bomb went off as the bus was carrying a group back from an engagement party in Herat province.
Four women and the driver were also killed, a spokesman for the provincial governor told the Reuters news agency.
In a separate development, a suicide car bomber attacked a bakery popular with police in southern Afghanistan.
At least five people were killed and 22 injured, officials say.
The attack took close to the police headquarters in Lashkar Gah, the main city in volatile Helmand province.
According to witnesses, police were buying bread when the attack took place. Two civilians were among the dead.
Residents and shopkeepers in Lashkar Gah told the BBC's Bilal Sarwary in Kabul that chaos and panic broke out after the explosion.
Correspondents say that civilian casualties are at record levels in the Afghan war, which started in 2001 with the US-led invasion of the country.
The UN last month said that 1,462 civilians were killed in the first half of this year, up 15% compared to the same period last year.
Insurgents were responsible for about 80% of the killings, the UN said.
Figures show that while foreign troop deaths are down when compared with this time last year, the insurgency is gaining strength in the once relatively peaceful north and west.
Lashkar Gah is one of seven initial areas for which security has been handed from Nato to Afghan forces.
Foreign combat troops are due to withdraw from Afghanistan by 2014.
Our correspondent says that insurgents are trying to undermine the authority and lower the morale of Afghan security forces as the transition gets under way.