India cricketer Sachin Tendulkar moves to 'dream house'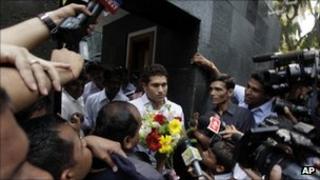 India's cricket star Sachin Tendulkar has "fulfilled a long cherished dream" and moved into a house of his own in the city of Mumbai (Bombay).
The star moved into the house in the upmarket Bandra area of the city from a flat elsewhere in Mumbai.
His new three-storey home is reported to have been designed according to the star's specifications and is spread over 6,000 sq ft (550 sq m).
It has two underground basements, high-walled fencing and CCTV cameras.
With more than 30,000 international runs in nearly 630 games, Tendulkar is India's most popular cricketer.
His fans often describe him as "God".
His international career has spanned an astonishing 22 years, during which time he has never been dropped from the Indian Test side.
The "Little Master" has scored more runs and notched up more international hundreds than anyone else in the history of the game.
Reconstructed
"Everyone has a dream of owning their own house," he told reporters on Wednesday.
"I, too, had this dream. I am happy that I have been able to fulfil it.
"I have even brought my mother today to show her the place," the cricketer said.
Indian media have reported that his new home has been reconstructed on a plot that earlier contained a dilapidated bungalow, which Tendulkar bought in 2007.