Sri Lanka tea production falls after bad weather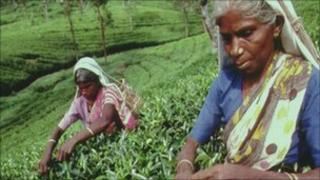 Tea production figures for Sri Lanka this year are turning out to be disappointing, experts say, largely because of poor weather.
Tea is one of the industries crucial to the country as it continues its post-war economic recovery, along with textiles, tourism and remittances.
Just weeks ago, there were high hopes that Sri Lanka's tea harvest for 2011 would surpass that of last year.
But figures show that crop produce in August fell 8% compared to last year.
Tea brokers say that it is unlikely that this year's crop will mirror that of 2010, which itself was the biggest ever.
The tea crop for August 2011 weighed in at just under 24m kg. Tea from the highest hilly locations, and from medium altitudes, declined especially sharply - by more than 20%.
But the overall figures were helped by tea grown lower down, which makes up the bulk of the crop - that has held up well.
Experts say the current problems affecting the tea industry stem partly from bad weather.
The climate in the hills has been unpredictable. In recent months there has been drought at times and heavy rain at others.
High wages in the industry have also been blamed for dampening output - most workers got a 25% salary increase in June, although they are still one of Sri Lanka's poorest communities.
And the market has been weak. Key importers of Ceylon Tea in the Middle East and North Africa are going through turbulent times.
There have now been five consecutive months in which tea output is down on last year.