Afghanistan: Two policewomen killed in Herat bomb blast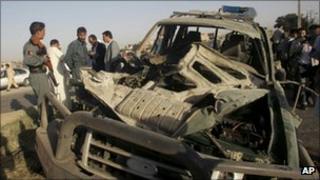 At least two policewomen and a civilian have been killed in a bomb blast in the western Afghan city of Herat, health officials say.
Doctors at the main hospital in the city told the BBC that a border police vehicle was hit by a roadside bomb on the Herat airport road.
They say that at least 10 others were injured in the blast.
On Tuesday at least 16 people, including 11 children, were killed in a roadside bomb in Herat province.
In further violence three coalition soldiers were killed by an improvised explosive device (IED) in eastern Afghanistan on Wednesday, the Nato-led International Security Assistance Force (Isaf) said.
The latest deaths come after the United Nations on Wednesday released figures saying that violent incidents in the war in Afghanistan increased by nearly 40% in the first eight months of this year compared to the same period last year.
But Isaf says that the figures are inconsistent with the data they have collected.