Pakistan PM Gilani rejects US Haqqani pressure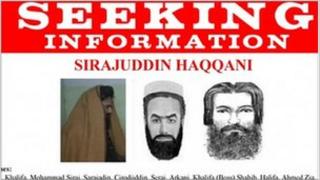 Pakistan will not bow to US pressure to step up its fight against militancy, its prime minister has said.
Yousuf Raza Gilani told a rare meeting of political and religious parties that relations between the two countries should be based on mutual respect.
Relations have hit new lows since the top US military officer said Pakistan backed the Haqqani militant group in Afghanistan, a charge Pakistan rejects.
Correspondents say many Pakistanis see the US comments as a threat of war.
Washington wants Islamabad to sever links with the Haqqani group, which analysts say has roots deep inside Pakistani territory.
US officials say they are close to deciding whether to label the group as a foreign terrorist organisation, and on Thursday the Treasury Department announced new sanctions on five individuals it said are linked to "the most dangerous terrorist organisations operating in Afghanistan and Pakistan."
"These financiers and facilitators provide the fuel for the Taliban, Haqqani Network and al-Qaeda to realise their violent aspirations," said Treasury official David Cohen said in a statement.
Correspondents say that the department's move means that US companies and individuals are prohibited from engaging in transactions with the targeted individuals - and any assets they hold under US jurisdiction are frozen.
Among the five is Abdul Aziz Abbasin, who the Treasury Department accused of a series of high-profile attacks and described as a "key commander in the Haqqani network".
Angered and humiliated
But in the Islamabad meeting, Mr Gilani said that Pakistan "cannot be pressured to do more" in the battle against militancy.
"The blame game should end, and Pakistan's sensitive national interests should be respected," he said, in comments carried live on local television stations.
He said that Pakistan was united over any threat to its sovereignty.
Pakistan's army head Gen Ashfaq Kayani and ISI spy chief Lt-Gen Ahmad Shuja Pasha were also at the meeting.
Lt-Gen Pasha told the meeting that any US military action against insurgents in Pakistan would be "unacceptable" and that the Pakistani army was capable of responding.
He said that Pakistan would not allow the situation to get to a "point of no return".
The US has been targeting militants, including members of the Haqqani group, for months in Pakistan's tribal areas near the Afghan border - some in the US Congress are now calling for it to go beyond drone strikes.
Pakistan's military was deeply angered and humiliated when US commandos killed al-Qaeda leader Osama Bin Laden in a secret raid on Pakistani soil in May.
'Shocked'
Tensions between the two countries rose still further last week when the most senior US military officer, Adm Mike Mullen, made his accusations, calling the Haqqanis a "veritable arm" of Pakistan's spy agency.
The BBC's Aleem Maqbool in Islamabad says the emergency meeting of Pakistan's parties is the largest gathering of its kind in the country for years.
He says Adm Mullen's comments have caused much anger in Pakistan and led many people to feel the US is threatening war.
The White House, however, made slightly more conciliatory noises on Wednesday.
Spokesman Jay Carney said he would not have used the same language as Adm Mullen, while Secretary of State Hillary Clinton said the two countries have to "work together".
At the meeting, Mr Gilani said that any attempts by America to put pressure on Pakistan to do more would fail.
"American statements shocked us, and negate our sacrifices and successes in the ongoing war against terror," he told the gathering in his opening remarks.
"We should give up talking about assumptions for the sake of meaningful negotiations. Pakistan cannot be pressurised to do more. Our national interests should be respected. Our doors are open for dialogue."
The prime minister also rejected allegations made by Adm Mullen that Pakistan had helped orchestrate attacks on US targets in Afghanistan.
Pakistan has long denied supporting the Haqqani group, but BBC correspondents say it has a decades-old policy of pursuing foreign policy objectives through alliances with militants.