Kandahar bomb targets Afghan minister Assadullah Khalid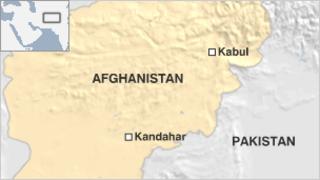 Afghanistan's minister of of border and tribal affairs has survived a suicide bomb attack in the volatile southern province of Kandahar.
Assadullah Khalid was not hurt when the bomber detonated a rickshaw packed with explosives close to his convoy, but two bystanders died and 17 were injured.
The attack occurred in the Haji Arab area of Kandahar's Dand district.
Reports say the minister was on the way to inspect development projects in the area.
''This was an attack against his life. We were on our way to the Dand district when the attack took place. It was meant for him and his convoy," aides to the minister told the BBC's Bilal Sarwary in Kabul.
Kandahar is considered to be the spiritual homeland of the Taliban and militants frequently launch attacks against government and military targets in the province.