Pakistan-row CIA man Raymond Davis arrested over fight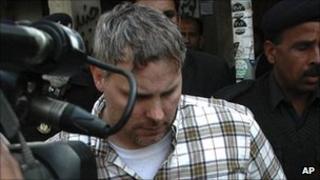 A CIA contractor whose murder acquittal sparked a furore in Pakistan has been arrested near his home in the US after a fight over a parking space.
Raymond Davis allegedly hit the man he was rowing with outside a bagel shop in the Colorado town of Highlands Ranch.
He was released from a Pakistani prison in March after the families of two men he had admitted shooting dead in Lahore accepted "blood money".
The case fuelled the anti-US feeling running high among some in Pakistan.
It also inflamed already tense relations between the US and Pakistan.
Police in Highlands Ranch responded to an altercation between two men outside an Einstein Bagel shop on Saturday morning, Lt Glenn Peitzmeier of the local sheriff's office said.
Mr Davis was taken into custody on misdemeanour charges of third-degree assault and disorderly conduct, and released after posting a $1,750 (£1,126) bond.
Lt Peitzmeier said the victim had refused medical treatment at the scene.
Local media reported witnesses as saying that a verbal row between the two men over a parking spot had turned physical.
Public anger
Mr Davis, 36, was at the centre of a diplomatic and political storm in January after he shot dead two Pakistani men in the eastern city of Lahore.
He claimed he had shot the two men in self-defence after an attempted armed robbery.
A third man was run over when a US vehicle came to Mr Davis's aid in the immediate aftermath of the shooting.
The US argued Mr Davis - a former special forces soldier - was embassy staff and should have diplomatic immunity, thus preventing his prosecution.
But public anger in Pakistan intensified after unnamed US officials said Mr Davis had been secretly working for the CIA at the time.
Mr Davis was acquitted of the murders by a court in March after the families of the two men agreed to receive compensation - known as "blood money" - thought to be around $2.34m (£1.1m).
Under Pakistani Sharia law, relatives of a murder victim who accept blood money can pardon the killer.
The deal came as a relief to both the Pakistani and US governments as it ended a long-simmering diplomatic stand-off over the issue.
But it sparked protests from hardline religious parties across Pakistan who were keen to see Mr Davis punished.