Afghan 'soldier' held over UK military death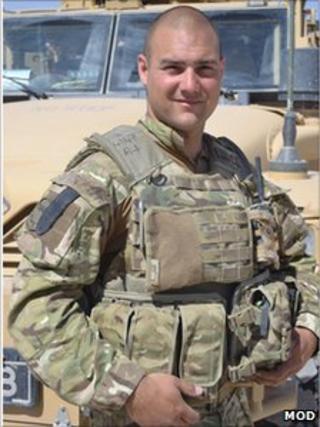 An alleged Afghan soldier accused of murdering a British serviceman during a Taliban attack has been arrested.
L/Cpl Paul Watkins, 24, was shot while on a routine patrol with the Afghan National Army near Gereshk in Helmand Province in July.
An investigation was launched after reports he was shot by a man dressed in an Afghan army uniform.
The Ministry of Defence said the suspect was held by Nato forces before being handed over to Afghan officials.
An MoD spokesman said: "The Afghan authorities have primacy in this investigation and will follow in line with the Afghan judicial process.
"It would be inappropriate to provide further comment during an ongoing investigation."
L/Cpl Watkins, originally from Port Elizabeth, South Africa, was in the Brigade Advisory Group, and had served in the armed forces for four years.
Other British soldiers have been killed by their Afghan allies in the past few years.
Three UK soldiers were unlawfully killed by a rogue Afghan soldier in Helmand in a suspected premeditated attack July 2010.
And in 2009 five British soldiers were shot and killed by a rogue Afghan policeman as they chatted and drank tea with their Afghan colleagues.