India: Ceasefire by Maoists rebels in West Bengal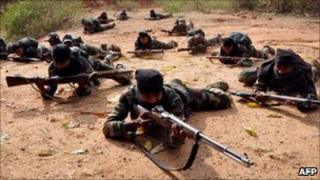 Maoist rebels in the Indian state of West Bengal say they have begun a month-long ceasefire.
The statement, signed by Maoist leader Akash and government-appointed mediators, was made public on Tuesday.
The rebels want the government to withdraw forces from the Junglemahal area - where they are active - and start the process of peace talks.
Maoists leaders stress that their move will only apply to West Bengal and is not a pan-Indian ceasefire.
The rebels are active in several eastern and central states.
Political rivals
One of the mediators told the BBC after the announcement that "the ball is now in the government's court".
"If the government accepts the ceasefire and reciprocates it, it will move towards the peace talks," Sujato Bhadra said.
Soon after winning the state assembly elections in May, West Bengal Chief Minister Mamata Banerjee appointed a team of mediators to negotiate with the Maoists.
Starting peace talks with the rebels was a part of her election manifesto.
During elections, her political rivals accused her of taking support from the Maoists. Ms Banerjee denied the charge.
She unseated the state's communists who had spent more than 35 years in power.
The Junglemahal region of West Bengal, which borders the state of Jharkhand, comprises West Midnapore, Bankura and Purulia districts.
In May 2010, more than 145 people were killed when a train crashed in the area after Maoist rebels allegedly sabotaged the rails.
The rebels say they are fighting for the rights of indigenous tribal people and the rural poor.
A government offensive against the rebels - widely referred to as Operation Green Hunt - began in late 2009.
It involves 50,000 paramilitary troops and is taking place across five states - West Bengal, Jharkhand, Bihar, Orissa and Chhattisgarh.