Pakistan Taliban leader plays down talks with Islamabad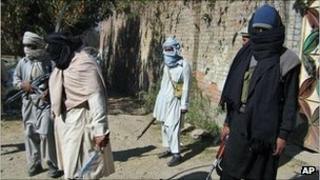 A senior Pakistan Taliban leader says talks with the government in Islamabad cannot succeed until after US forces withdraw from Afghanistan in 2014.
Maulvi Fakir Mohammed spoke to the BBC's Urdu service by telephone, from an undisclosed location.
"We never reject negotiations but I believe they can't succeed until 2014."
Pakistan's political and military leaders agreed last week "to give peace a chance" and talk to militants in the tribal belt along the Afghan border.
Maulvi Fakir, deputy commander of the Pakistan Taliban, also repeated two long-standing Taliban demands - that Pakistan enforce Sharia law and stop doing America's bidding. Otherwise, he said, the conflict in Pakistan would continue.
Talks with militants is a policy Pakistani officials have pursued in the past - to their cost.
Insurgents used previous rounds of negotiations to strengthen their position - and then renege on their commitments. The Taliban takeover of the Swat Valley in 2009 was a prime example.
The new talks initiative is still taking shape but, according to local media reports, insurgents would not have to disarm before coming to the table.
Pakistan's Prime Minister Yousuf Raza Gilani has reportedly ruled this out, saying that disarming was "against the tribal culture". Instead militants would be asked to put their weapons beyond use.
If talks fail, the prime minister has said that military operations would be launched - as was the case after the controversial peace bid in Swat.
Based on the response from Maulvi Fakir, the Pakistan Taliban appear to have little appetite for talks now.
In spite of various police and army crackdowns, they still manage to carry out deadly attacks, on high-profile targets, on a regular basis.
They may see no reason to negotiate with an enemy - the Pakistan government - that is so visibly weak.