India: Report alleges illegal iron ore mining in Goa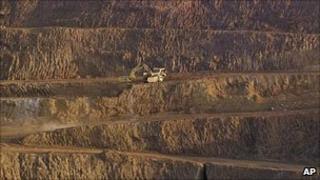 Nearly half the iron ore exported from the western Indian state of Goa is illegally mined, the leader of the state opposition has alleged.
Manohar Parrikar, also chairman of the state's public accounts committee, has submitted a report on an alleged mining scam to the state assembly's speaker.
Mr Parrikar claims the state government does not want to put a halt to the illegal mining he says is rife in Goa.
The report is yet to be made public, but Goa's leaders deny wrongdoing.
Chief Minister Digimbar Kamat, of the governing Congress party, says he will comment on the report when it is made public.
But the contents of the report appear to have been widely leaked to the media and reports say that it centres on the extraction of more iron ore than is legally permitted in the state.
The report is believed to claim that the illegal export of illicitly mined ore has caused huge losses to the state exchequer, with some estimates saying this scandal could have cost about $712m (£462m).
The report is also believed to hint at the involvement of politicians, bureaucrats and mining lobbies.
Mr Parrikar's report is supported by committee members belonging to his Bharatiya Janata Party (BJP) but it has been vetoed by the members of the Congress Party.
Correspondents say it is now up to the speaker to decide whether to table the report in the assembly or not.
"Of the 54 million tonnes of iron ore exported this year, 30 million tonnes is legal, and the rest - more than 20 million tonnes - is illegal," Mr Parrikar said in the Goa assembly on Wednesday.
"The chief minister [Digambar Kamat] does not want to change the situation in the mining department and does not want to punish anyone who is guilty.
"A third person will infer that he is involved," he said.
Recently, a similar mining scandal came to light in the southern state of Karnataka.
In August, Chief Minister BS Yeddyurappa was forced to resign after the state ombudsman indicted him for his alleged involvement in the scandal. He denies any wrongdoing.