Pakistan rejects 'finger pointing' over Karzai plot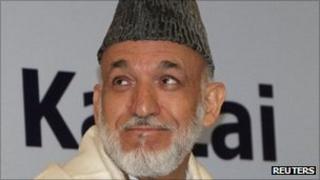 Pakistan has said that allegations that a plot to kill the Afghan president was hatched on its soil should be properly checked before accusations are made.
The authorities in Kabul said on Wednesday that the plan to kill President Hamid Karzai originated in Pakistan's tribal areas.
The alleged plotters recruited one of Mr Karzai's bodyguards and had possible militant links, officials said.
Analysts say the arrests may be seen as part of a plan to discredit Pakistan.
Relations between Afghanistan and Pakistan are tense over alleged links between Pakistan and Haqqani militants operating in Afghanistan from bases in Pakistan.
Islamabad is also thought to be concerned about a strategic partnership agreed between Delhi and Kabul on Tuesday, because Pakistan regards Afghanistan as within its sphere of influence.
Afghan intelligence officials said on Wednesday that they had arrested six people who they believed were planning to assassinate President Karzai.
The alleged plotters had recruited one of Mr Karzai's bodyguards and had possible links to the Haqqani network, the officials said.
Militants have killed a string of high-profile figures in Afghanistan in recent months.
Details of the latest alleged plot to kill President Karzai are still emerging, but Afghan authorities were swift to point the finger.
Officials in Islamabad say they were too quick to apportion blame.
Pakistan's foreign ministry said that before making irresponsible statements linking anyone to any particular place, the facts should be checked.
'Grandstanding'
Officials in Kabul have claimed the assassination plot was hatched across the border in the militant stronghold of Waziristan.
Afghan intelligence sources say all six of those arrested were trained by al-Qaeda and insurgents from the Haqqani group which has safe havens in Pakistan's tribal belt.
Kabul has already accused its neighbour of involvement in the killing of Afghan peace envoy Burhanuddin Rabbani last month, a claim Islamabad denies.
"It is our expectation that everyone, especially those in position of authority in Afghanistan, will demonstrate requisite maturity and responsibility," Foreign Office spokeswoman Tehmina Janjua told a news conference.
"This is no time for point-scoring, playing politics or grandstanding."
The BBC's Orla Guerin in Islamabad says the flow of allegations from Kabul is a headache for Pakistan, which is still coming to terms with its arch-foe India's new strategic partnership with Afghanistan.
Pakistan's foreign ministry says the agreement is still being studied.
Analysts say the deal will intensify Pakistan's concerns about its rival's growing influence in Afghanistan and will lead to a hardening of positions.
The result, they say, could be more regional instability.