Indian court frees actor Darshan on bail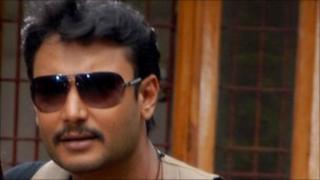 Popular Kannada-language film actor Darshan, arrested last month on charges of assaulting his wife, has been given bail by a court in southern India.
Fans of the action hero celebrated the high court order on Friday by distributing sweets.
The actor was arrested on 9 September after his wife Vijayalakshmi accused him of domestic violence.
But later, she withdrew her complaint under pressure from the Kannada film industry, police said.
When the local court refused to free him on bail, Darshan took his appeal to the high court.
The judge has ordered the actor and his wife to appear in the court on 13 October.
Police charged Darshan with attempted murder and criminal intimidation after his wife, Vijayalakshmi, accused him of beating her and threatening her with a gun.
After his arrest, hundreds of the star's fans held protests in Bangalore, the capital of Karnataka. Police used canes to disperse stone-throwing groups.
The couple are reported to have argued over Darshan's alleged affair with actress Nikhita Thukral. Ms Thukral denied any romantic links with Darshan.
But the Kannada Film Producers' Association imposed a three-year ban on her, saying Ms Thukral had spoiled the "domestic harmony of a fellow actor".
The ban was reversed a few days later following opposition from within the film industry.