Indian singer Jagjit Singh dies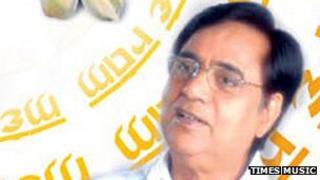 Renowned Indian singer Jagjit Singh has died in Mumbai (Bombay), aged 70.
Mr Singh, who was famed for his semi-classical ghazal songs, suffered from a stroke last month and had been in a coma in hospital ever since.
Popularly known as the "Ghazal King", Singh sang in a number of languages.
He is survived by his wife, Chitra Singh, who is also a leading ghazal singer. They had commercial success with songs recorded together in the 1970s and 1980s.
Singh's admirers say he revolutionised ghazal music and made it accessible to the wider public.
He also sang tracks for a number of popular movies, including Sarfarosh.
He was the first prominent ghazal singer from India in a genre dominated by Pakistani singers.
"He was the first real ghazal singer from India. Before him there were clones. The poetry in his music was beautiful," actor Anupam Kher said in a tribute.
"His music was gentle, soothing and went to your heart."
Ghazal singer Pankaj Udhas said that Singh had made ghazal so accessible that his audiences "could sing along with him".
Jagjit Singh recorded more than 50 albums, many of them major commercial successes.