India: Four Assam farmers killed by police in protest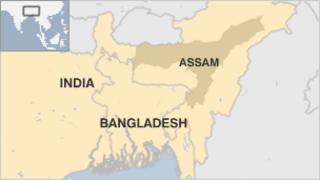 Four demonstrators have been shot dead after police fired on a group of protesting farmers in the north-eastern Indian state of Assam, police say.
The farmers had blocked a highway in Darrang district demanding higher prices for their produce, which is mainly jute.
It is not immediately clear why the police fired on the farmers.
There have been a number of clashes between farmers and the police in India in recent months.
Most of the violence involved farmers protesting against the forcible acquisition of land by the government for infrastructure and housing projects.