Rockets target Pakistan governor at elders gathering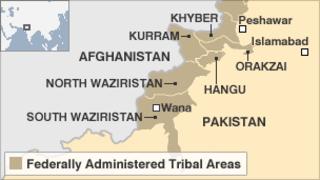 Militants have attacked a meeting of elders which the governor of Pakistan's Khyber Pakhtunkhwa province was to attend, wounding six, officials say.
Governor Masood Kausar was not at the meeting venue but he was in the vicinity, at the Frontier Corps camp at Kalaya, in the Orakzai tribal area.
Three rockets landed at the camp and sparked panic at the meeting.
Officials say they were fired from the hills surrounding the camp in the restive tribal area.