'Haqqani commander killed' in Pakistan drone strike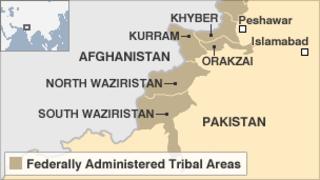 A top Haqqani militant commander has been killed in a suspected US drone strike in the Pakistani tribal area of North Waziristan, officials say.
Janbaz Zadran "played a central role in helping the Haqqani network attack US and coalition targets" in Afghanistan, a US official told the BBC.
Pakistani officials say three other militants were killed in the raid.
Drone attacks frequently target Pakistan's restive tribal areas, where many insurgents have taken shelter.
The US blames the Haqqanis for attacks including one on the US embassy and Nato in Kabul last month.
Escalation
In line with US policy, the official did not confirm reports earlier on Thursday that the killing was the result of a strike from an American-operated drone aircraft.
Janbaz Zadran, who the US says was also known as Jamil, was a key lieutenant to Badruddin Haqqani, one of the group's commanders and a son of its founder, Jalaluddin Haqqani, the Associated Press says.
Badruddin Haqqani is on a US state department blacklist. US officials designated him a terrorist in May.
Zadran is believed to have had access to Haqqani leaders in the town of Miran Shah in North Waziristan.
"His death in Miran Shah makes him the most senior Haqqani leader in Pakistan to be taken off the battlefield," the official said.
Pakistani intelligence officials also confirmed the death of Zadran.
Another US drone attack on Thursday targeted a compound in South Waziristan, killing at least six suspected militants, Pakistani officials said.
The strikes come as the US special envoy to Afghanistan and Pakistan, Marc Grossman, arrived in Islamabad in an effort to improve relations with Washington.
Drone attacks have escalated in the region since President Barack Obama took office in 2008. More than 100 raids were reported in the area last year.
A number of militants, some of them senior, have been killed in the raids, but many civilians have also died.
The US does not routinely confirm drone operations, but analysts say only American forces have the capacity to deploy such aircraft in the region.
Last month, US Secretary of State Hillary Clinton said the US was in the final stages of deciding whether to label the Pakistan-based Haqqani network a foreign terrorist organisation.
Relations between the US and Pakistan have been severely strained this year and worsened after the killing of al-Qaeda chief Osama Bin Laden on Pakistani soil by US commandos in May.