India: BJP ex-chief minister arrested over kickbacks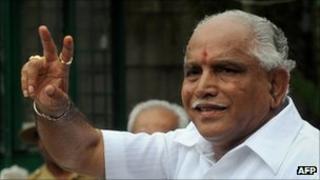 A top Indian politician has been arrested over a multi-million dollar corruption scandal.
BS Yeddyurappa, former chief minister of the southern state of Karnataka, has been accused of accepting kickbacks for selling government land.
Mr Yeddyurappa belongs to India's main opposition party, the BJP.
He also faces allegations over a multi-billion dollar mining scandal, but no charges have been framed in that case. He denies any corrupt dealings.
A judge in a special court in Bangalore, the capital of Karnataka, issued an arrest warrant for Mr Yeddyurappa.
Judge NK Sudhindra Rao said bail could not be granted in the case due to its "gravity".
Mr Yeddyurappa has been remanded in custody until 22 October. He is accused of illegally selling government land in and around Bangalore.
The authorities allege that the land deals cost the Karnataka state 4.65bn rupees ($95m), while Mr Yeddyurappa and members of his family were said to have personally gained 1.89bn rupees ($38.6m).
Another 13 people are accused in the same case.
Aside from the alleged land scam, the former chief minister also faces accusations over an alleged $3.6bn iron-ore mining fraud.
Burning issue
The BBC's Sanjoy Majumder says the arrest comes as a major embarrassment for the BJP, which had been putting pressure on the governing Congress party over a number of corruption scandals.
Earlier in the week, veteran BJP leader LK Advani, 84, set off on a five-week nationwide anti-corruption road trip.
Corruption has become a burning issue in Indian politics, with huge protests in August following a hunger strike by activist Anna Hazare in Delhi.
A number of high profile politicians have been arrested in recent months.
Among them is the former Telecoms Minister Andimuthu Raja, who has been accused of mis-selling telecoms licences, which auditors say cost India about $40bn.