Former India Karnataka chief minister back in jail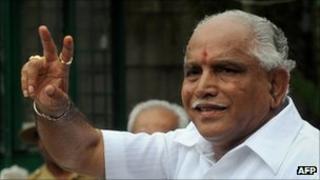 The former chief minister of the Indian state of Karnataka, BS Yeddyurappa, has returned to jail after being discharged from hospital.
Mr Yeddyurappa is accused of accepting kickbacks for selling government land. He was arrested and jailed on Saturday. He denies the allegations.
Within hours, he was sent to hospital after he complained of feeling ill.
Opposition leaders accused Mr Yeddyurappa of faking his illness to escape being in jail.
The authorities allege that the land deals cost the Karnataka state 4.65bn rupees ($95m), while Mr Yeddyurappa and members of his family were said to have personally gained 1.89bn rupees ($38.6m).
On Wednesday morning he was taken to Parappana Agrahara jail in Bangalore city, Karnataka's state capital, in an ambulance.
His petition for bail will be heard in court on 20 October.
Mr Yeddyurappa, 68, belongs to India's main opposition party, the BJP.
He is accused of illegally selling government land in and around Bangalore.
Another 13 people have been accused in the case.
Mr Yeddyurappa also faces allegations over a multi-billion dollar mining scandal, but no charges have been brought in that case. He denies all allegations of corruption.