Nepal rescue plane missing with six people on board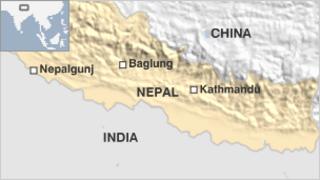 A military aircraft with six people on board has gone missing in a remote part of mid-western Nepal, an army spokesperson has told the BBC.
The aeroplane was returning to Kathmandu carrying a medical team from a rescue mission near the Indian border when it lost contact with officials.
The spokesman said that locals had reported seeing the aircraft in flames.
Plane crashes are fairly common in mountainous Nepal. Last month 19 people died in a crash near Mount Everest.
In another crash last December, all 22 people travelling in a small passenger plane were killed east of Kathmandu.
The spokesman said that the plane in Tuesday's accident was returning from the town of Nepalgunj to Kathmandu and lost communication while flying over a national park in Baglung district.