India Formula 1 track unveiled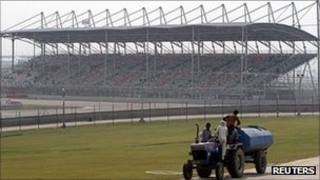 The track for India's first Formula 1 race has been unveiled to the media.
Thousands of spectators are expected to turn up at the 5.14km-long Buddh International Circuit track near Delhi on 30 October, when India's first F1 race will be held.
The company which built the track and is managing the race has spent $400m on the project.
Heavy metal band Metallica and singer Lady Gaga will perform at the opening ceremony.
The organisers of the race, Jaypee Sports International, said 5,000 people worked to build the specialised track at the 2,500-acre site.
Indian farmers have threatened to disrupt the race in a row over the way their land was acquired for the new track.
The farmers want better compensation and job opportunities as they say their livelihoods have been compromised.
Last week, Indian conglomerate Sahara announced a deal to buy a large stake in the Force India Formula 1 team.