France begins withdrawal of troops from Afghanistan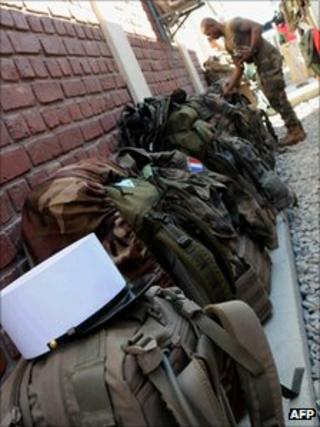 France is set to pull out nearly 200 troops from Afghanistan in a few hours, kickstarting withdrawals announced three months ago by Paris.
Another 200 soldiers are due to return home before Christmas as part of Nato's plan to end combat mission by 2014.
France has some 4,000 troops in Afghanistan and 75 of its soldiers have died in the country since 2001.
Several countries, including, the US, the UK, Canada and Belgium, have also announced plans to withdraw troops.
Some US and Canadian troops have already headed home, handing over responsibilities for security to Afghan forces.
The US plans to withdraw 33,000 soldiers by the end of 2012.
Most French soldiers are deployed in the district of Surobi and in the neighbouring province of Kapisa.
"We are carrying out a proportional withdrawal," French Defence Minister Gerard Longuet told France Inter radio ahead of Wednesday's withdrawal.
"The zones that we are in charge of will be handed over to the Afghan army."
President Sarkozy announced plans to withdraw French troops during his visit to Afghanistan in July.